Season 3, episodes 16, 17 and 19: to his shock, he learns that he is the father of Kylie. He dated her mother Vangie a couple of years back, and now that she died in a bike accident, he ends up with the kid.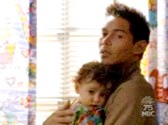 Though he completly falls for his daughter, he decides to give up Kylie for adoption since he cannot give her a real family to grow up in. He choses the Kenny family and asks them to be able to stay in contact with his daughter.
In season 5, episode 8, he learns that Kylie is sick. She has idiopathic aplastic anemia and needs a bone marrow transplant. Her best bet is to find a biological donor. However, as Carlos puts it, she is the daughter of a "one-sibling psycho and a foster care reject who has no family", hence complicating the whole biological donor business a great deal. Fortunately, things are going change in the following episodes concerning Carlos and his lack of family...